Video of the instrument being played:
Excerpt of "Aloha 'Oe" written by Queen Lydia Lili'uokalani in 1878.
Tuning: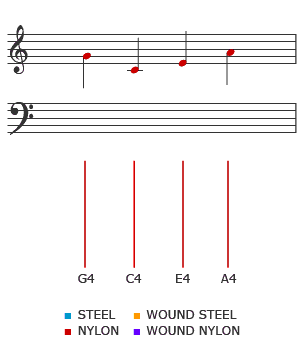 String Gauges:
.60 mm - 3.7 Kg, .77 mm - 3.2 Kg, .92 mm - 3.0 Kg, .65 mm - 3.4 Kg
Luthier:
C.F. Martin & Company is a U.S. guitar manufacturer established in 1833 by Christian Frederick Martin. Martin is highly regarded for its steel-string guitars and is a leading mass-manufacturer of flattop acoustics. Martin instruments can cost thousands of dollars and vintage instruments often cost six figures. The company has also made several models of electric guitars and electric basses.
The company's headquarters and primary factory are in Nazareth, Pennsylvania, located in the Lehigh Valley region of the state. Martin also manufactures instruments in Mexico. Martin produced 182 instruments during 1900, increasing to 24,085 in 2000.
Story:
When my wife and I were on vacation in the French Quarter of New Orleans, I was searching for a local music store. After going to a couple closed down locations, I was lucky enough to find one on the other side of the mighty Mississippi river in Algiers Point.
We took a ferry across and found out that the store was actually in a musician's garage because of local "inventory tax." Oh well, I thought "maybe he still had some decent instruments?" Thankfully and surprisingly, he has been a Martin dealer for over 30 years. After scanning through his massive collection of guitars, I decided to get the Martin S1 soprano type ukulele. It will be perfect to use to teach my four year old how to play the ukulele, while she plays her own, which is a concert type, at the same time.
Further Notes:
Regarding tuning, G4, C4, E4, A4 is used for the Soprano, Concert and Tenor types. D4, G3, B3, E4 for Baritone. The rare Sopranino size is tuned the same as a Soprano or higher, but always with the same intervals.
Evolved from the Portuguese Cavaquinho, brought to Hawaii by Portuguese sailors. Always use nylon strings.
Scale Length:
Soprano - 330mm. Concert - 380mm. Tenor - 430mm. Baritone - 480mm. Sopranino - 250-300mm.
Origin:
Hawaii of the United States. The Soprano was created in the 1880's, the Concert and Tenor in the 1920's and the Baritone in the 1940's.
Construction:
Mahogany Blocks/Applied Dovetail
Fingerboard Material:
Solid East Indian Rosewood
Fingerboard Width at Nut:
Fingerboard Width at 12th Fret:
Fingerboard Position Inlays:
One @ 5th, Two @ 7th, One @ 10th
Bridge Material:
Solid East Indian Rosewood
Tuning Machines:
Grover Nickel w/ White Buttons
My Recommended Strings:
Aquila Soprano Regular C Set, ASRC
Luthier Recommended Strings: