Tuning: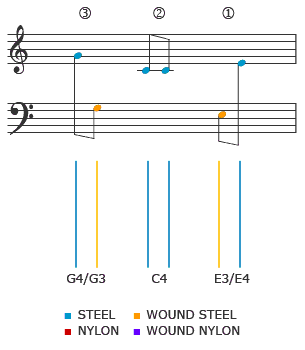 String Gauges:
.011/.031w, .014/.014, .023w/.012
Luthier:
C.F. Martin & Company is a U.S. guitar manufacturer established in 1833 by Christian Frederick Martin. Martin is highly regarded for its steel-string guitars and is a leading mass-manufacturer of flattop acoustics. Martin instruments can cost thousands of dollars and vintage instruments often cost six figures. The company has also made several models of electric guitars and electric basses.
The company's headquarters and primary factory are in Nazareth, Pennsylvania, located in the Lehigh Valley region of the state. Martin also manufactures instruments in Mexico. Martin produced 182 instruments during 1900, increasing to 24,085 in 2000.
Story:
At first, I thought the best version of this instrument would be natively made, but since I heard that Martin made only 243 praiseworthy instruments with grand user reviews, I had to take a chance.
For hours, I scoured the internet via Google to find one for sale, but I could not even find one on Ebay. Every time I found an entry at an online music instrument store, it would display the dreaded "out of stock" or "discontinued" statement.
Luckily, after literally looking everywhere, I could only find one sole option actually for sale from an online music shop. The shop is actually in the United Kingdom, which struck me as strange that they even had one, but then I had a realization. Of course, in North America they would be scarce because they originated in Cuba, and are played in the United States to some extent. In Europe, the demand is probably not near as high due to location and awareness.
This was not a simple "click and order" transaction since their "cheque" system was down, and I had to go through Paypal, but I eventually did get it ordered, and it arrived rather quickly.
Take note of the string order in the diagram above. I have seen it displayed incorrectly on other sites.
Further Notes:
Always use steel strings.
Top:
Spruce Pattern HPL Textured Finish
Rosette:
Herringbone Style - Gold & Black
Back Material:
Mahogany Pattern HPL Textured Finish
Side Material:
Mahogany Pattern HPL Textured Finish
Fingerboard Material:
Solid East Indian Rosewood
Fingerboard Width at Nut:
Fingerboard Width at 12th Fret:
Bridge Material:
Solid East Indian Rosewood
My Recommended Strings:
La Bella Tres Cubano Plain Steel/Silver-Plated Wound Ball Ends, PRT730
Luthier Recommended Strings:
Martin Special Tres Set, .0115 e, .024w E, .014 c, .014 c, .024w G, .0115 g