Tuning: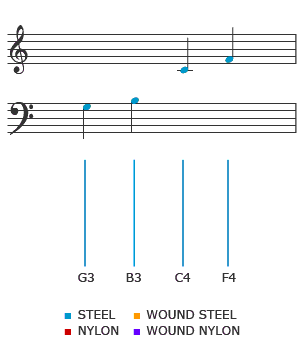 Luthier:
Salatuy Tachalur - He has a website at www.salatuy.com, but I cannot read thai unfortunately. He sells instruments available via eBay though.
Story:
This instrument was so intriguing for a number of reasons. First, it is extremely rare, and not even played until recently by the Lanna or Khon Muang people that it originates. Secondly, I had to contact four different ethnomusicologists from all over the world until I found out how to properly tune the instrument. Finally, it is played in a very unique way, which mostly incorporates the use of harmonics.
After a year of research, I found the dissertation of Dr. Andrew Shahriari and his book Khon Muang Music and Dance Traditions of North Thailand. It described not only how to tune the instrument, but how to use Western tuning and play a full diatonic scale on it.
During my research, I also corresponded with Ph.D. student John Garzoli from Melbourne, Australia, Thitipol Kanteewong from Chiang Mai University, and Dr. Andrew Clay McGraw from Richmond, Virginia.
Thai tuning uses the thai symbols for what they call "Do, Re, Mi..etc.." as:
ด = 1
ร = 2
ม = 3
ฟ = 4
ซ = 5
ล = 6
ท = 7
ดํ = 1 in higher octave
Regarding thai tuning,  "1", "ด", or "Do" does not equal the Western "C" and the Thai scale has no tones or semi-tones. 
The Western tone is 200 cents, the semi -tone is 100. The Western chromatic scale is called 12 tone equidistant because it comprises 12 intervals of equal distance (geometrically).
From a theory of John Garzoli, the Thai scale is 7 Tone equidistant and each interval is 171.429 cents.
Thai musicians tune to the flute (Khlui), or oboe (Pain Nai), and there is no standard tuning.
I hope that Mr. Garzoli is able to publish his information in the near future, and I am still researching proper "thai tuning". I will update this page with more information.
Further Notes:
Traditionally silk strings are used, but presently, steel strings are typically used.
Origin:
Northern Thailand, 12th century.
Neck Material:
Ching-chan (also known as Burmese Rosewood)
Tuning Machines:
Carved ching-chan (also known as Burmese Rosewood)