Tuning: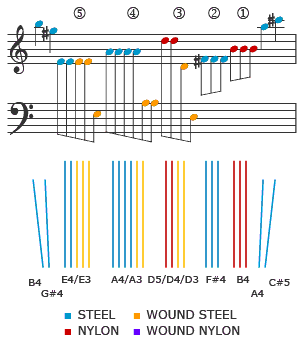 String Gauges:
Four Diablitos = .007
E Course = .024 *2 metal G strings, .024w *2 wound G strings, .056w *1 wound low E string
A Course = .017 *3 metal B strings, .042w *2 wound A strings
D Course = .014 *2 nylon high E strings, .034w *1 wound D string, .056w *1 wound low E string
F# Course = .024 *3 metal G strings
B Course = .017 *3 nylon B strings
Luthier:
Sebastian Saldarriaga, who lives in La Serena, Chile, has built many different types of instruments over the years. This is the seventh Guitarrón Chileno that he has built. It took a lot more time than I expected to recieve it, but it is a very nice quality instrument. The only thing that I will have to change on it are the tuning machines.
He has a blog located at: http://saldarriagaluthier.blogspot.com/
Story:
Purchasing this instrument was such an experience! Some parts fascinating, some parts frustrating. Since this was my first international purchase through the mail, it was quite a learning experience.
It all began after I worked on a cigar-box guitar with my step-father during Thanksgiving break in 2010. It appears that looking at all the different tuning options sparked my interest enough to do deep research into other instruments. Also, a catalyst for the benign obsession was probably picking up a mandolin (see the mandolin story for details), and my parents giving a ukulele to my daughter as a gift.
After some digging, I stumbled across a link that contained tunings from many different ethnic instruments. While I was looking at all the instruments with more than twelve strings, the Guitarrón Chileno caught my eye.
I did some internet searches for a luthier to build one, but I could only find one available from a company called Mesko, which is located in Santiago, Chile. After a couple of phone calls to the store, I realized that I mistakenly assumed that they would be able to communicate to me via English. Frustrated, I still looked for another luthier.
Many months later, I found one that would agree to build one for the same price that the other company quoted on their site. Due to the luthier asking for payment at the same time he was moving to another country, it was far from a smooth transaction. Thankfully, the money was eventually picked up by him, and everything worked out.
I only know of one person in the United States that has actually learned how to properly play the instrument in Chile. She presently does not live too far away from me, so I might get the courage to ask her for lessons someday.
Further Notes:
See the dissertation listed in the sources for details on optional tunings. The name of the instrument is Spanish for 'Chilean large Guitar'. Traditionally, both steel and nylon strings can be used. Also, I have seen all steel strings used though as well.
Alternative Tunings:
(A5, F#5), D4 D4 D3 D3 D2, G4 G4 G4 G3 G2, C4 C4 C4 C3 C2, E4 E4 E4, A4 A4 A4, (G5, B5)
My Recommended Strings:
D'Addario Plain Steel Acoustic or Electric .007, PL007 for the Diablitos. Ernie Ball Earthwood Lights for the metal/wound strings, and La Bella Classical for the nylon strings.