Video of the instrument being played:
Excerpt of "The Rain Song" written by Jimmy Page and Robert Plant. Originally performed by Led Zeppelin and released on the "Houses of the Holy" album in 1973.
Tuning: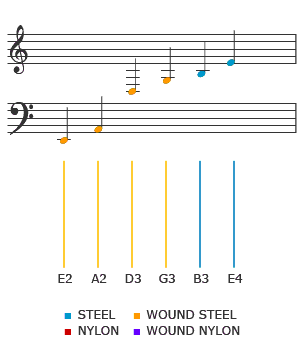 String Gauges:
.052, .042, .030, .022w, .015, .011
Luthier:
C.F. Martin & Company is a U.S. guitar manufacturer established in 1833 by Christian Frederick Martin. Martin is highly regarded for its steel-string guitars and is a leading mass-manufacturer of flattop acoustics. Martin instruments can cost thousands of dollars and vintage instruments often cost six figures. The company has also made several models of electric guitars and electric basses.
The company's headquarters and primary factory are in Nazareth, Pennsylvania, located in the Lehigh Valley region of the state. Martin also manufactures instruments in Mexico. Martin produced 182 instruments during 1900, increasing to 24,085 in 2000.
Story:
At the age of five, I first tinkered with an acoustic guitar. It was an old Carlos brand guitar that my uncle and father passed back and forth for trades. Ironically, my uncle gave me the same guitar when I was about fourteen. Having action of about an inch and a half made it the perfect guitar for learning and forming calluses.
My first electric guitar was a great 1991 Les Paul Studio, black, with gold hardware. This was given to me on my fifteen birthday by my mother, and I still own this guitar. It has the perfect action, and was a huge difference being easy to play compared to my old one. I am sure that I will never sell it since I adore playing it so much.
Surely, I drove my parents crazy with playing horrible renditions of AC/DC and Metallica songs, but thankfully they had patience with the sound I created for the first year.
The only lessons I had were a few from a guitar teacher who basically just taught me the note value of the strings. Chord formations, modulation, and overall theory I picked up entirely on my own. Around late 1992, I also started my own progressive rock band in the styles of Yes, Rush, King Crimson, Pink Floyd etc., so my playing was exponentially better by this time.
Fast forward to my birthday October 14, 2005, my mother and step-father gave me a Martin JC-16GTE as a present. This acoustic guitar had that smell equivalent to a new car, but with wood overtones. It has that sound that everyone seeks. What a gem!
I have played many different guitars over the years, but Gibson (electric guitar) and Martin (acoustic guitar) remain my favorite brands.
Further Notes:
The steel stringed guitar should not be confused with the original classical guitar from Spain (15th Century).
Alternative Tunings:
Too numerous to mention them all.
Origin:
United States, 19th Century
Headstock:
Solid/6 String No Diamond/Standard Taper
Headplate:
Solid East Indian Rosewood /Raised Gold Foil Logo
Heelcap:
Solid East Indian Rosewood
Fingerboard Width at Nut:
Fingerboard Width at 12th Fret:
Fingerboard Position Inlays:
Old Style 18 - Abalone Pearl
Finish Back and Sides:
Satin, Light Mahogany Stain
Finish Neck:
Semi Gloss/ Light Red Mahogany Stain
My Recommended Strings:
Ernie Ball Earthwood Light Gauge (.011 - .052)
Luthier Recommended Strings:
Martin MSP 4100 Light Phosphor Bronze (.012-.054)
Electronics:
Fishman Prefix Premium Stereo Onboard Blender