Video of the instrument being played:
Excerpt of "Wish You Were Here" written by Roger Waters and David Gilmour. Originally performed by Pink Floyd and released on the "Wish You Were Here" album in 1975.
Tuning: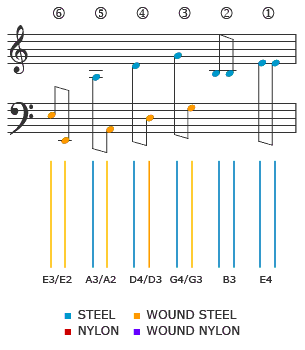 String Gauges:
020p*.036, .012*.026, .026*.046, .009*.020w, .012*.012, .009*.009
Luthier:
C.F. Martin & Company is a U.S. guitar manufacturer established in 1833 by Christian Frederick Martin. Martin is highly regarded for its steel-string guitars and is a leading mass-manufacturer of flattop acoustics. Martin instruments can cost thousands of dollars and vintage instruments often cost six figures. The company has also made several models of electric guitars and electric basses.
The company's headquarters and primary factory are in Nazareth, Pennsylvania, located in the Lehigh Valley region of the state. Martin also manufactures instruments in Mexico. Martin produced 182 instruments during 1900, increasing to 24,085 in 2000.
Story:
Since I was so happy with the Martin acoustic that my mother and step-father gave me on my birthday in 2005, I decided that when it was time to find a twelve-string acoustic, I was going to stick with that brand.
Surprisingly, at the time, Martin only sold two models of acoustic/electric twelve-string guitars. One is a very expensive model, and a less expensive one. Since I found the less expensive one fifty percent off the price, I chose that because it sounded and felt perfect.
Unfortunately, the electronics fell deep inside the sound hole, but thankfully it was still under warranty. The adhesive was just set to the wood of the guitar, and must have just released.  I just had to take it in for repair where they can resolve that, so I got some new strings while I was there.
The repair went well, and ironically after some chatting with the owner, I found out that the work done on my Guitarrón Chileno was completed by someone that used to work there with him. It is such a small world after all.
Further Notes:
Always use steel strings.
Alternative Tunings:
Traditionally - C3 C2, F3 F2, A#4 A#3, D#4 D#3, G3 G3, C4 C4; To reduce high tension - B2 B1, E3 E2, A4 A3, D4 D3, F#3 F#3, B4 B4
Origin:
1920's. It was invented simultaneously in the United States, and Brazil.
Rosette:
Multiple Black/White Boltaron with Red Fiber
Top Braces:
Solid Sitka Spruce 5/16''
Back Material:
Mahogany Pattern HPL Textured Finish
Side Material:
Mahogany Pattern HPL Textured Finish
Fingerboard Width at Nut:
Fingerboard Width at 12th Fret:
Saddle:
16'' Radius/Compensated/White Tusq
Tuning Machines:
Chrome Enclosed w/ Small Buttons
My Recommended Strings:
Ernie Ball Twelve String Acoustic Guitar - Earthwood 12 String Light, (.009 - .046) 2010
Luthier Recommended Strings:
Martin SP Lifespan Phosphor Bronze 12 Str X-light Gauge (MSP7600)