Tuning: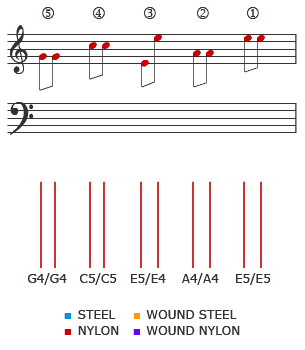 String Gauges:
.030, .020, [.016, .030], .026, .016
Luthier:
Ignacio Suarez - I looked all over the internet for different luthiers that could build one, but I could not find one that would directly do business. It appears that most will sell their products through "malls" on certain web pages, like www.boliviamall.com or www.ecuadormall.com.
Story:
After seeing the instrument played by Roberto Marquez Buegno from Illapu, I felt that I had to learn and play the charango.
Todaro's Music, also known as World Frets was a site that may recommended to buy through here in the United States, so I gave them a call, and drove up to Philadelphia the following week.  Since they do not put up all their inventory on their web site, it is much better to call and speak with the owner if you can. They had one made of high quality woods, and the playability was fantastic, so I had to take it home. It was such a nice Father's Day trip!
Alternative Names:
Quirquincho, Mulita, Tatu, Kirki.
Origin:
Early 18th century in the Royal Audiencia of Charcas in what is now Bolivia.