Tuning: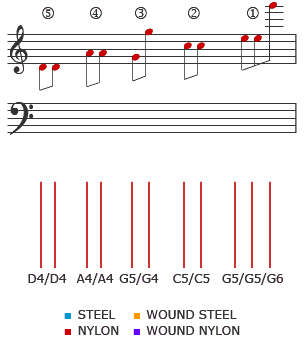 String Gauges:
.016, .010, [.007, .012], .007, .007, (.007)
Luthier:
Carlos Torrico Vega - Professor Bernardino Carlos Torrico Vega, born in the town of Aiquile, city of Cochabamba on September 11, 1953. In 1980, he started a workshop in the city of La Paz to build stringed instruments, especially charangos.
In view of its marked interest to overcome, traveling in 1981 to the city of Aiquile to work with the master David Amaya who received teaching in the noble purpose of building the instrument, becoming an apprentice for Amaya.. In 1983, he returned to La Paz and then started selling his work, accessories and methods in an impromptu post at a street corner Santa Cruz and Linares.
Thanks to their tenacious work, they soon opened a store called
Sumakj Llajta (Buen Pueblo, or Good People). Currently, the store is located at
the corner of 902 Linares Street and Sagarnaga, where they are dedicated to building and restoring charangos, selling guitars and other accessories.
Story:
While I was drooling over a standard charango at Todaro's Music (worldfrets.com), I saw that they had a ranka charango as well. One unfortunately fell victim to humidity and was badly damaged, and a couple others were in good rustic shape, as they should be. Since one was larger than the other, I wanted the lower toned version, and asked that they keep it in the owner's office so that I could ask about a couple repairs first before buying one. Thankfully, even though it is extremely rare, the price was very low.
One of the frets on it was unglued, but they sent the part with it, and I reglued it myself. The other "problem" was not a problem at all, I found out later. Even though they have ten holes for use for strings in the headstock, they only use nine of them, and use the diablito at the lower bottom to equal ten strings. This information is coming from the seller, so I might verify that later with the luthier. Overall, even though it is a very rustic instrument, it is unique and fun to play.
Further Notes:
Nylon strings are used mostly, but a steel string is used for the diablito.
Alternative Tunings:
G4 G4, C5 C5, E5 E4, A4 A4, E5 E5, E6
Alternative Names:
Potasi Charango, Ranqha Charango
Origin:
Cochabamba, central Bolivia.