Tuning: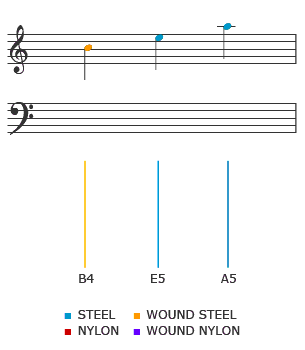 String Gauges:
0.44 mm, 0.26 mm, 0.20 mm
Luthier:
The German luthier Andreas Gerth was recommended by Alex Siniavski, a Russian virtuoso prima balalaika player. When I wrote to him, he was pleasently surprised that I asked for a piccolo type, and said "Why not?". Even though English was a second language for him, his communication skills were the best I have ever experienced with a foreign luthier.
Story:
Mr. Gerth has built many prima balalaikas over the years, but this was his first attempt at making  a piccolo type since they "died out" after the 1930s, and are extremely rare.  It was completed quite well, on time, and he is very fair on his prices. During our e-mail exchanges back and forth, he was kind enough to chat about his own performances and travels. If I ever get to go to Berlin, I hope we can have a drink together sometime.
Since it was such a positive experience, I am checking to see if he will build a Sächsische theorbenzister for me at a later time.
To learn the proper technique of playing the instrument, I searched Youtube and found videos of it being played in the Orchestre de Balalaïka St-Georges from France, and Dieter Hauptmann. Typically, the piccolo follows a third, fourth, or octave above the prima melody being played. The tremelo picking method is used often as well.
Fingerboard Width at Nut:
Fingerboard Width at 12th Fret:
Fingerboard Position Inlays:
My Recommended Strings:
Pyramid Piccolo Balalaika
Luthier Recommended Strings:
Pyramid Piccolo Balalaika