Video of the instrument being played:
Excerpt of "Contigo" written by Miguel Mendoza. Originally performed by Grupo Solido and released on the "En Vivo Contigo" album in 2004.
Tuning: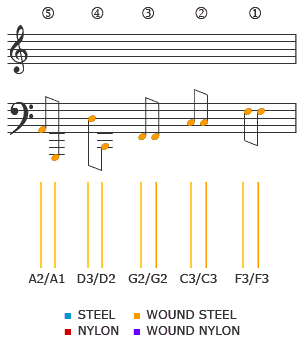 String Gauges:
 078w/036w, 062w/030w, 046w(x2), 036w(x2), 024w(x2)
Luthier:
The Oscar Schmidt Company (also selling under the names "Oscar Schmidt Lap-Harp and Zither Company," "Oscar Schmidt Musical House," and "Oscar Schmidt International") designed and manufactured numerous models of parlour instruments including lap harps, autoharps, germania harps, chord zithers, regent zithers, and ukelins. The company, now owned by U.S. Music Corporation, continues to manufacture autoharps and ukuleles.
Founded by Oscar and Otto Schmidt in Jersey City, New Jersey in 1871, the company applied for dozens of patents in musical instruments and related equipment. The Oscar Schmidt Company was formally incorporated in 1911 and at the company's peak in the early 1920s, with the company operating manufacturing facilities in five cities.
The instruments were primarily sold door-to-door by travelling musical salesmen from the early 1880s until 1965. The company often employed current events as a marketing strategy. Each year, the company would offer new "special editions" of its products linked to newsworthy events likely to appeal to the sympathy of customers the door to door salesforce would encounter. These special editions would include a small dedication commemorating the event and sheet music also written to commemorate the event. The company's salesmen kept detailed records of the buying habits of customers, and the selection of special editions was made annually with the intent to sell additional instruments to existing customers.
The company's instruments were intended to be relatively easy to play for amateurs. Oscar Schmidt designed small, portable, durable instruments intended to be easy to learn, and useful for family entertainment in the decades between the Civil War and the emergence of radio and later television. Nonetheless, the instruments were often complicated enough to play that they were abandoned and set aside. Today, Oscar Schmidt instruments are frequently found in the attics of old homes, at estate auctions, and in antique stores, and there are a few music stores and websites devoted to the instruments.
Story:
After looking at instruments from Hernandez and Macias, I decided that I would keep looking for a good deal on a nice instrument since they usually cost at least three to five thousand U.S. dollars. Oscar Schmidt offered a nice sounding bajo quinto that I found on Amazon for an amazingly low price.
WIth GHS branded strings, believe it or not, it sounds as good as a Macias, which is the "Les Paul of Bajos".
When I recieved the initial instrument, unfortuntately the electronics did not work. Amazon's return policy was decent though, and the replacement worked like a charm.
My Recommended Strings:
GHS Bajo Sexto - Loop End Stainless Steel Roundwound 10 String Set, .024 - .078, BSX-10
Electronics:
Fishman® EQ/Tuner pickup system