Video of the instrument being played:
Excerpt of "το ζειμπεκικο της ευδοκιας (Zeibekiko of Evdokia)" written by Manos Loizos. Originally performed by him and released on the "Evdokia" drama film in 1971.
Tuning: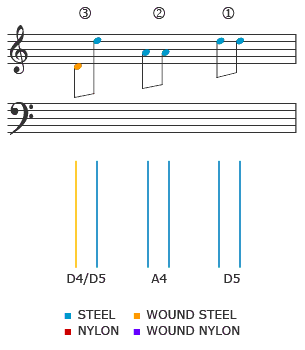 String Gauges:
[.022, .011], [.015, .015], [.011, .011]
Luthier:
Pegasus Music and Workshop: Like many shops on Pandrossou, Pegasus, which sells bouzoukia, a traditional Greek instrument, is part of a family business.  Started in the mid 20th century by Yiannis Hatziperoglou, the business is now run by his three children, Vasiliki, Barbara, and Adonis.  The Hatziperoglou are Athenian locals, but have ancestry from Constantinople and Mani, in the Peloponnese.
The family opened their first store in Plaka just under the Acropolis in the 1950s, selling souvenirs and other touristy memorabilia.  In the late 1960s, they moved the business to Pandrossou Street, just across from where Pegasus is now.  It was at that time that the family began to sell bouzoukia. They were one of the first stores in Plaka to sell musical instruments.
As young children, Vasiliki, Barbara and Adonis used to come down to central Athens to help out at the store.  As the years passed and business did well, the trio would open two more stores.  With their interests in mind, the family arranged for each child to run a store that sold items that matched those interests: for Adonis that was music (he now runs Pegasus); for Vasiliki that was fashion and design; and for Barbara, that was ceramics.
Story:
This was the first non-guitar stringed instrument that I have purchased. I found it being sold on ebay directly from Athens, Greece. It's not the best specimen in the world, but adequate enough for playing. I have been debating whether or not to replace it someday, but I think I will focus on obtaining and learning the other Greek instruments in the bouzouki family first.
Further Notes:
3 doubled courses. A smaller version of the Bouzouki. Steel strings.
Origin:
Greece, evolving from the Turkish Saz.
My Recommended Strings:
Ernie Ball Earthwood Singles