Video of the instrument being played:
Excerpt of "Jashipuniw Marichiweu" written by Osvaldo Torres. Originally performed by him and released on the "Homenaje al pueblo Mapuche" album in 2012.
Tuning: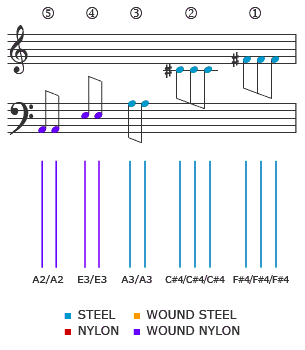 String Gauges:
Normal tension - (Nylon/Wound) Classical (E), High tension (Nylon/Wound) - Classical (D), .018 Wound/Steel, .015 Steel, .009 Steel
Luthier:
Eduardo Cornejo Miranda was the luthier of the ajayu, but Osvaldo Torres Véliz, an original member of the group Illapu, was the sole inventor and designer.
Sr. Cornejo was born in Rancagua, Chile then he moved to the rural town Idahue (San Vicente de Tagua Tagua). At the age of thirteen he moved to Santiago for his secondary education. Years later, while studying Sound Technology at the University Vicente Perez Rosales, he played with various Latin American bands, participating in several presentations. He then travels to Buenos Aires, Argentina, where he studied Music Therapy.
While searching various instruments from Latin America, especially the Treble Colombian Luthier met Argentine Jorge Espinosa, who taught him how to make the Charango , Cuatro Venezolano, Ronrrocos and Maulinchos.
Sr. Cornejo has developed instruments for many Chilean musicians including Juan Flores, Jorge Coulon, Italo Pedrotti, Mauricio Garay Cid, Jose Luis del Piano, Camilo Gomez Camblor, Peter Millar, Jane Millar, and many more. 
It is also noted, his greatest accomplishment is restoring the guitar of Victor Jara, the project was led by his daughter Amanda and given to Joan Jara. It is at the Victor Jara Foundation where it is currently displayed.
Currently he is based in San Vicente Tagua Tagua and plays with a group doing cueca urbana music called The Kala Kala Ka.
Story:
Sr. Torres is still actively writing for Illapu, and also does a lot of solo work.
Corresponding with him was an experience that I will remember forever. He shared unreleased songs with me, and I sent him lyrics, and some of my own music as well.
Along with music written by Roberto Márquez Bugueño, he has written some of the best songs that I have ever heard. "Cuarto Reino, 4th Reich", "Que Va A Ser Da Ti", and "De Libertad Y Amor" are just a few examples.
Due to my lack of spanish speaking ability, the luthier was kind enough to have his uncle who worked at the U.S. Embassy in Chile call me so we could communicate with each other. 
It was extremely well-built, and it is one of the most valuable instruments that I own.
Further Notes:
Used on the album "Ajayu" written by Osvaldo Torres released in 2009. The word ajayu is Aymaran, and translates to "spirit" in English.
Alternative Tunings:
C3 C3, G3 G3, C4 C4, E4 E4 E4, A4 A4 A4
Top:
German Spruce with two lines of Canadian Spruce
Fingerboard Width at Nut:
Fingerboard Width at 12th Fret: